Get ready to dance the holiday weekend away this Memorial Day weekend at Sunset Music Festival with all your friends to your favorite DJs, producers & more! Today we're proud to share a portion of our greatest lineup yet.
Phase 1 Talent
Listed in Alphabetical Order:
AC SLATER
ADVENTURE CLUB
BAWLDY
CHAMPAGNE DRIP
CHRIS LORENZO B2B WAX MOTIF
CONRANK
CUT SNAKE B2B WONGO
DECADON
DESTRUCTO
DOC MARTIN
DREZO
EPTIC
ESSEKS
GREEN VELVET
J. WORRA B2B SAGE ARMSTRONG
JVNA
KAI WACHI
KAIVON
KOMPANY
LIZZY JANE
LUCII
NITTI GRITTI B2B WUKI
PARTY FAVOR
PAZ
PETEY CLICKS B2B TOMBZ
REZZ
SEVEN LIONS
SINDEN B2B KENDOLL
SOFTEST HARD
SULLIVAN KING
SVDDEN DEATH
SWARM
TAIKI NULIGHT B2B SHIFT K3Y
TRIVECTA
TYNAN
VALENTINO KHAN
VAMPA
VNSSA
WOOLI
ZOMBOY
With Stages Hosted By:
ALL MY FRIENDS & NIGHT BASS
Phase 2 of our Memorial Day weekend lineup will be announcing very soon!
Buy Tickets
Book a Hotel
Earn Rewards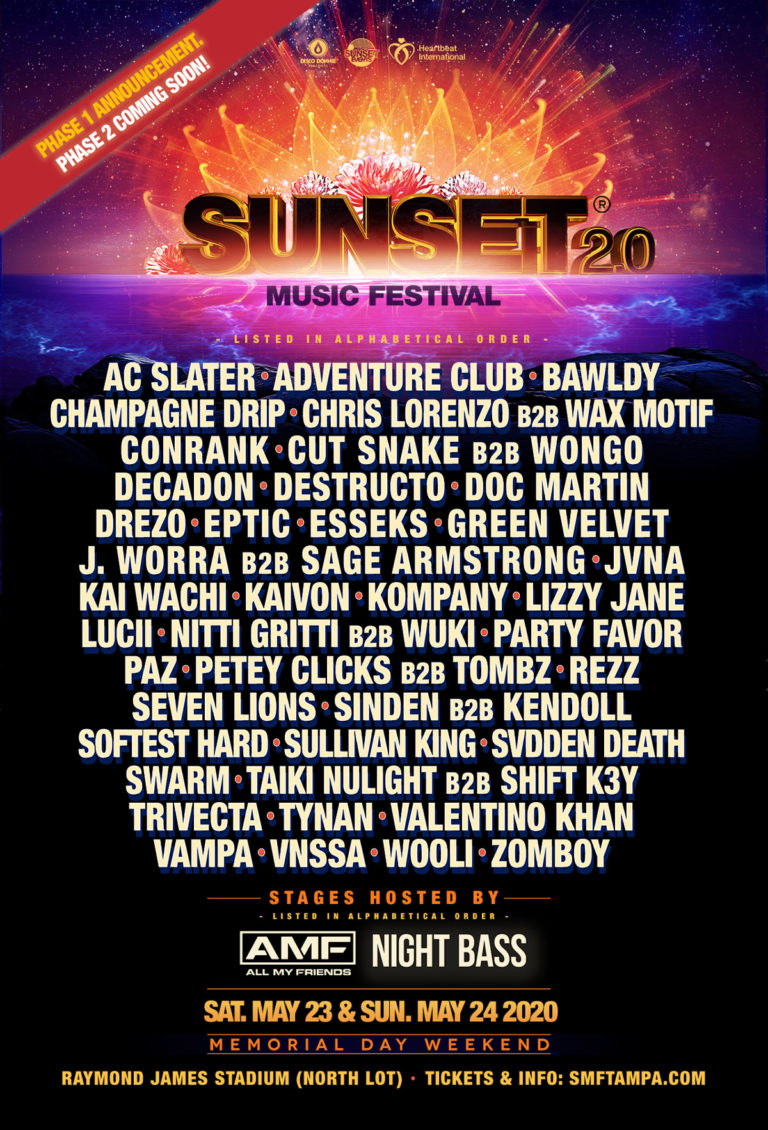 Buy Tickets
Book a Hotel
Earn Rewards